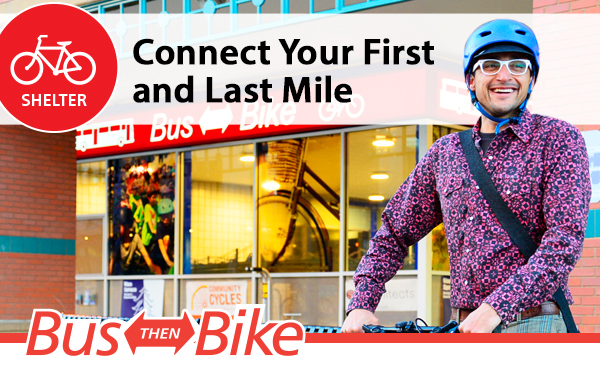 If you commute to or from Boulder County for work or school, consider using RTD and then a bike to connect your first or last mile.
Use a Bus-then-Bike Shelter.
Boulder County offers 4 modern, secure bike shelters at convenient locations to store your bike at either end of your commute. You can sign up for access to one or more shelters—and you can safely leave your bike throughout the day, overnight, you decide.
14th & Walnut Streets, Boulder Transit Center (140-bike capacity)
Roosevelt Park/ 8th & Coffman Park-n-Ride, Longmont (31-bike capacity)
Table Mesa Park-n-Ride, Boulder (31-bike capacity)
28th & Iris Streets, Boulder (31-bike capacity)
Register Now for a FREE Keycard (It Takes 2 Minutes).
Space is limited, so register now, get a keycard and start simplifying your commute!
www.busthenbike.com
Please see below for helpful links about local transit information and options.
---
RTD
Bicycle and pedestrian maps:https://bouldercolorado.gov/trails-and-recreation
Boulder Bike Pool: https://boulder.bcycle.com/